VIA Magazine is committed to promoting Puglia as a year-round destination with something to do every single day, 365 days a year – rain, snow, clouds, or shine.
After all, that is the ethos behind the birth of VIA magazine: an infinite path to live, breathe, taste, dance, and love Puglia. To get you started, here is our handpicked selection of art and cultural events happening now through the end of 2020.
Lecce Art Week
Welcome a great initiative about to land in Salento, the First Edition of Lecce Art Week. Organized by PIA in collaboration with Progetto and additional partners, Lecce Art Week will take place from October 17-25th featuring openings, guided tours, talks that cover the historical center of Lecce and the San Pio district, and workshops led by artists Nina Canell and Robin Watkins with the support and patronage of the Swedish Embassy in Rome, and the support of the Goethe Institute.
The two main installation venues are Progetto, a gallery directed by artist Jamie Sneider, and PIA – a circulating place for artists and curators, and a school for visual art alongside visiting curator Caterina Riva. Riva has worked in London, Milan, Singapore, and Auckland, and has recently been appointed Director of MACTE in Termoli, Italy.
13th October – Lecce Art Week opens at 16:00 with a lecture by Caterina Riva at PIA's space (Via Trieste 15), followed by Micheal Dean's final work at Progetto at 18:00 (Via Idomeneo 72)
14th October – outdoor workshop for the artists including Nina Canell and Robin Watkins
15th October –  first guided tour "The Hidden Idem" led by artist Marco Vitale with visits to the shows
16th October – second guided tour "The Hidden Idume" led by Marco Vitale artist, starting from Manifatture Knos and ending at Studio Concreto. Among the guests are Cosimo Terlizzi and Giuseppe Arnesano.
17th October – opening of the group show, "A small messy turbulence" at Castello Carlo V
Visitors can enjoy the public expo from October 17-25th at Lecce Castle. Click here to purchase tickets.
Follow PIA on Instagram @pia_pia_pia_pia_pia_
World Press Photo
The World Press Photo 2020 exhibition is making a stop in Bari this year. The 2020 edition takes place at Teatro Margherita with a compelling lineup of photographs by artists that have captured one of the most turbulent years in a long time.  View the full program here.
Monday – Thursday: 10:30 am – 1:30 pm | 3.30 pm – 8.30 pm
(last entrance: 30 minutes before closing time)
Friday – Sunday: 10:00 am – 10:00 pm
(last entrance: 30 minutes before closing time)
From 1 October – 1 November 2020
Visit: https://www.worldpressphotobari.it/ | On Instagram @worldpressphoto_bari/
European Film Festival 2020
Lecce has captured everyone's attention this year, in part due to Dior's cruise collection held in July 2020, but it has always been a favorite production location for filmmakers for decades thanks to the city's well-preserved historic heart with limestone buildings, cobblestone roads, hidden palazzos with lush gardens, and alleyways. The 2020 edition will welcome more than 100 films and welcome directors, actors, producers, and distributors with all safety regulations in place.  During the festival, theatres and palaces will be open for visitors with a showcase of exhibits, concerts, and talks all about cinema.
On Instagram @festivaldelcinemaeuropeo/
For the full schedule: https://www.festivaldelcinemaeuropeo.com/
31 October 2020 – 7 November 2020
Jewish Museum in Lecce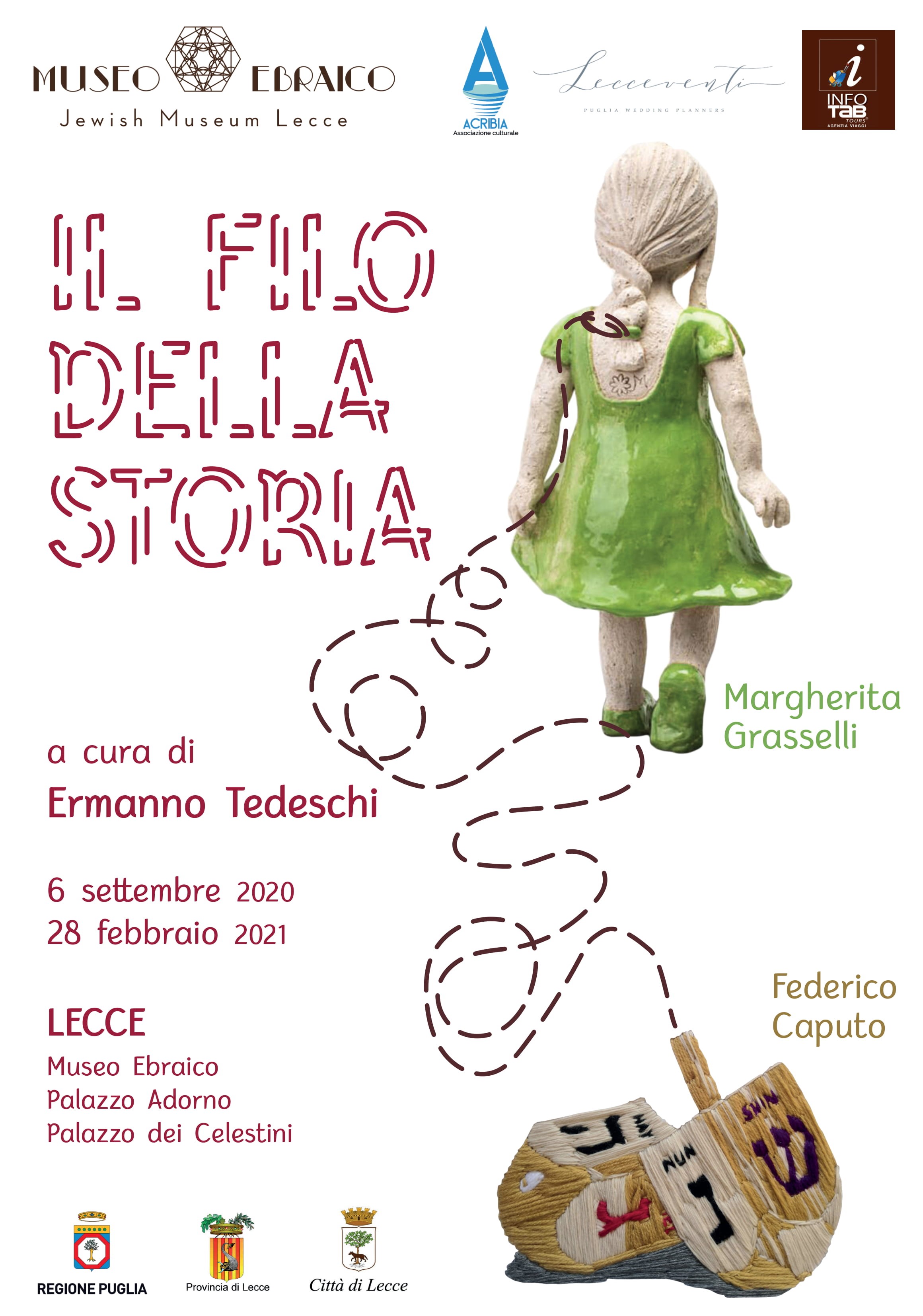 Curated by Ermanno Tedeschi, the exhibition named "Il Filo della Storia" (The Thread of History) explores the question of craftsmanship, particularly, what unites an artist who sews and pains with thread with the artist who sculpts with clay? Through the works of Margherita Grasselli and Federico Caputo visitors learn that both artists work the raw material with the intention of mastering its rigid form to shape faces, bodies, and objects.
With the works placed in three beautiful palazzos, the works of Grasselli and Caputo hints at the intertwining between man and place, between forms and symbols that come together and evoke memories with the history of the buildings and the city.
The temporary exhibition is showcased at the Jewish Museum of Lecce and the courtyards of Palazzo Adorno and Palazzo dei Celestini.
In addition, the month of October also welcomes the "Below the Baroque" festival in cooperation with several partners including Cantine Leuci (one of the region's kosher wine producers).
Click here for more information.
7 September 2020 – 28 February 2021
www.palazzotaurino.com/
PhEST is born out of the need to give back a voice to the thousand identities that form the "sea within the lands"
PhEST International Festival of Photography and Art
PhEST is an International Festival of Photography and Art and is endorsed by several partners including the Apulia Film Commission and the Tourism and Cultural Industry Department of the Puglia Region. The Fifth Edition is titled "Totally Outdoor" and takes place in Monopoli. PhEST covers photography, cinema, art, music, and influences from across the Mediterranean. The festival celebrates photography and invites art lovers to enjoy a free and safe outdoor festival.  This year's theme  – and perhaps not by coincidence – is "Earth", our relationship with our planet, and rediscovery of its natural abundance that feeds us, gives us air, food, and protection. Installations are set across the historic center of Monopoli and run through 1 November.
Thru 1 November 2020
For more information: https://www.phest.info/
More events coming soon, stay tuned.